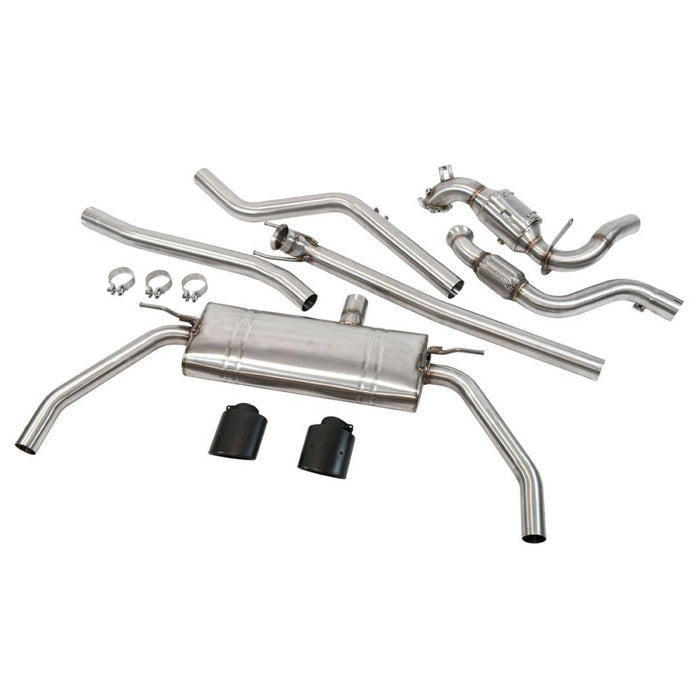 MERCEDES-BENZ CLA250 FULL TURBO BACK EXHAUST SYSTEM WITH CARBON TAILPIPES
Product Code: 200237
This is a premium quality, lifetime guaranteed, 100% stainless steel exhaust for Mercedes CLA 250 2013 onwards. Includes everythign from the turbo back, including flexpipe, catalytic converters, exquisite carbon fibre finish tailpipes as well as the rest of the exhaust- centre section, down pipe, front pipe etc. This is a sports sound, direct fit, lifetime guaranteed aftermarket exhaust that is sure to add both performance gains and a fantastic sound to your CLA250. This exhaust fits all CLA250 models.
The exhaust system is fully mandrel bent and TIG welded in order to provide optimal gas flows and increase the performance of the vehicle. We are keen to secure high quality video clips and pictures of this system in action for our marketing purposes and we are willing to reward this effort from our customers with a partial refund.
For the UK market, we are required by law to display the following disclaimer: This product makes use of non-type approved catalytic converters and we advise that for the UK market, this component can not legally installed on a vehicle (1st of March, 2001 onwards) for use on public roads.