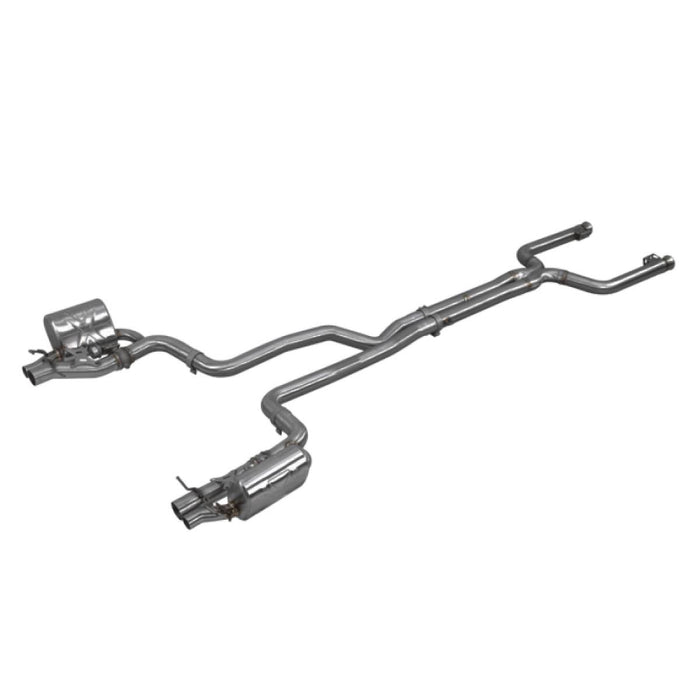 MERCEDES-BENZ C63 AMG W205 4.0 SPORTS SOUND FULL VALVETRONIC EXHAUST
Product Code: 110009
The item listed is a high quality, 100% stainless valvetronic cat back exhaust system made specifically as a premium quality, direct fit bolt on exhaust for the Mercedes-Benz C63 AMG W205 variants, 2014 onwards (all variants of C63 AMG W205). If you have any doubt ref the fitment of this product to your C63 AMG, do not hesitate to enquire on this product using the button above and we can advise. 
This exhaust is a direct fit, plug and play replacement for the original system and it features vacuum controlled valves (key fob kit included) in order to change from an aggressive sports note ideal for the open road to a tamer, spouse and inner city friendly note with the valves closed. As a performance exhaust, it is louder, lighter and sportier than the original system. The system comes as pictured and includes x2 performance chambered silencers (skipped by the valves open route), full duplex centre section, two clamps and all appropriate hangers, valves and the valve kit to control them.
This exhaust does not include tailpipes/tips however your originals will mount to the included outlets perfectly, as will any OEM compatible aftermarket tips. The exhaust system is fully mandrel bent and TIG welded in order to provide optimal gas flows and increase the performance of the vehicle. The exhaust is priced competitively, sounds fantastic and is the only bolt on exhaust replacement you will ever need with our Topgear lifetime guarantee. This is a full, high quality aftermarket exhaust system that is sure to add both performance gains and a fantastic sound to your C63 W205 AMG.
Bore Diameter- 3 inch (76MM)
Product Weight (boxed)- Box 1: 20KG Box 2: 18KG
Package Dimensions- Box 1: 152x92x18 (CM) Box 2: 85x82x25 (CM)
Gaskets/Fitting Kit- x2 clamps provided, in conjunction with hangers this is a full fitting kit.
Installation instructions- Not included, we recommend professional installation